This week has been an incredible time for visiting with friends.
THURSDAY- Sharkey's,
Thursday evening Mark and I made it out to Sharkey's once again for dinner, drinks and music. The band that was playing was a Tribute band to Tom Petty. "Hard Promises" (Photo taken from the Band's website)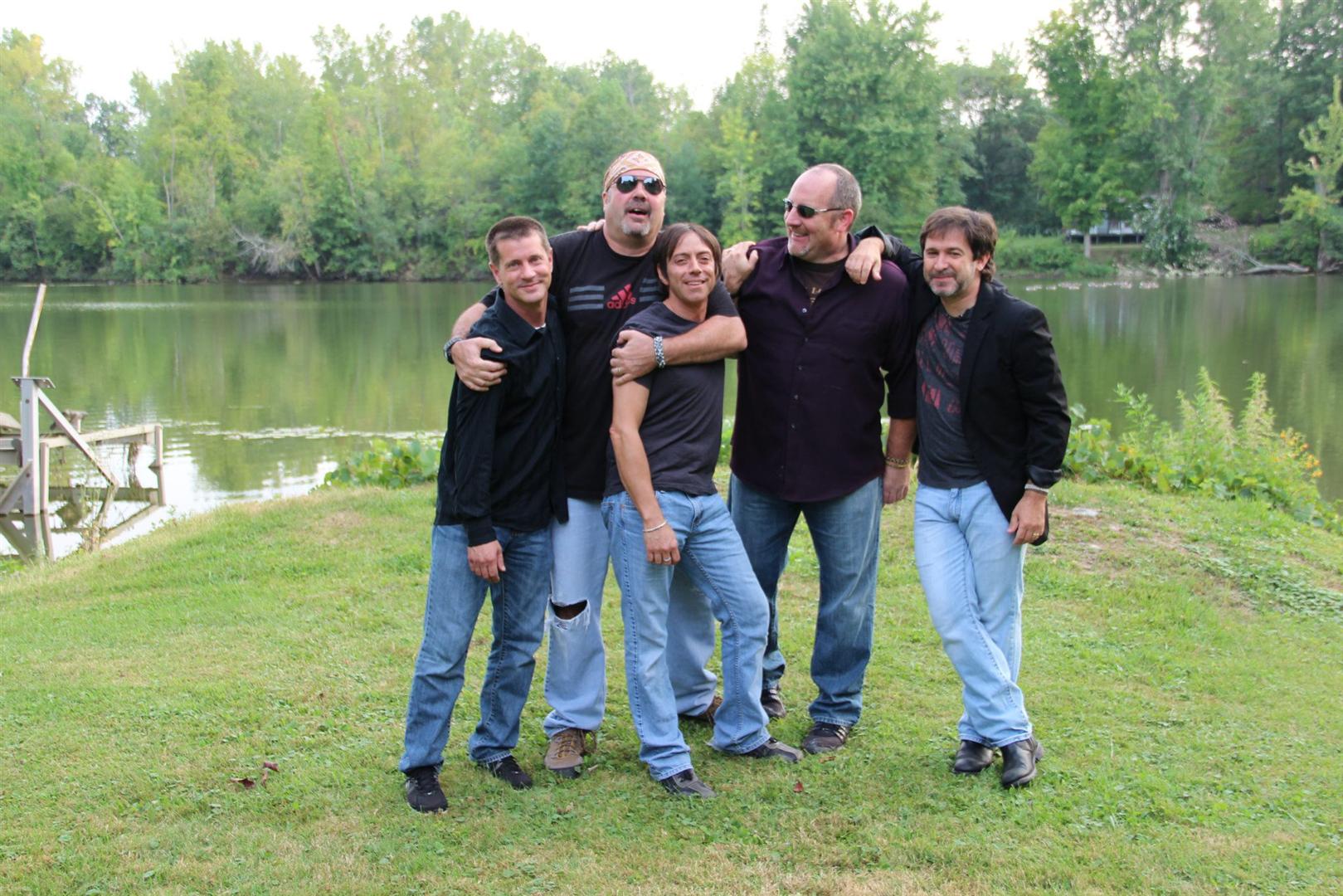 I regretfully had missed my photo opportunities of the band as my camera was malfunctioning. The only picture I caught that night was NOT taken by ME. Some might accuse the amount of intoxicating beverages consumed by the photographer, but I am convinced it was the condensation from the rain that fell on us that evening. At any rate this was the only picture that was CLEAR!
It was a great night. I signed myself up with this social group via the internet called Syracuse "Happy Hour" Adventures and met some of the members that evening. We also meet up with Tammy and Rich, as well as some of Mark's co-workers Karen and Terri. It sprinkled for most of the evening, but it was such a fun night. I will admit having date night with my husband has turned out to be quite enjoyable, and it was even more fun with additional couples. Karen and Terri were great fun. I didn't get to know the group members as well as I would have liked as I spent most of my time with the friends I was with.
FRIDAY BBQ lunch at SBH Outpatient.
Friday brought more interaction with friends.
My mother needed me to sign their will in front of a notary, so I took her to lunch. We quickly obtained the proper paperwork, then headed to my OLD office for a FREE Dino BBQ luncheon.
Every summer SBH provides a community BBQ at most of the departments. Katy invited me to meet up with her to obtain some paper work and then my mother and I enjoyed lunch. What was so GREAT about this luncheon, (besides being FREE), was that there were so many former co-workers and old friends not only from SBH, but from other local agencies that I have not seen in so long. My friend Jerry (my first co-partner) was there as well as many others. I loved the time talking and catching up...and my mother was easily talking to people as if she knew them all her life.
I also met a future co-worker at my new place of employment. After speaking with him, I felt really excited about the new position. I know it will be a perfect fit. I would have taken pictures, but quite honestly...I think I would have looked WEIRD, snapping shots all over the place. I loved the time catching up with old friends and co-workers, and I CANNOT WAIT to return to work myself.
SATURDAY- Mary and Brian's Summer PARTY and GIRLS NIGHT
At 8am, Tammy and I were at the water fitness class. I have been going to water fitness for the last two weeks now and actually made it to a Zumba class this past Wednesday. Tammy has a new job too and she starts Sept. 2nd. Yeah Tammy.
Later Saturday Mark, Gavin and I made our way to Mary and Brian's Annual summer party. They do a big event even hiring a band. The FabCats??
Once again I didn't take any pictures.
One of the band members works in Brian's dry cleaning shop, and they play often at their events.
The music is generally from the 50's and 60's.
They had BBQ chicken and several dishes were passed. Many of these people I have met at such events, but have never established a relationship with. Of course I have known Mary and Brian for ever, and the boys had a great time.
We ate, visited with Mary's family and enjoyed the music, before I had to rush out to attend girls night....
It has been a long time since we have all had a girls night and it was MUCH needed!
Doreen, Cathy, Renee, Me and also joining us was Colleen and Doreen's mother. We had time to catch up and hear all about things wonderful and not so wonderful going on.
We had a great time catching up. It is so nice to have a group of friends you can just have some silly zanny crazy fun with.
This weekend of seeing so many friends and making new ones, has really made me examine the importance of having such relationships in my life. Of late I have been re-evaluating some of my relationships with people. Mark and I have had some in depth discussions about the subject. I enjoying having many people in my life, and gather multiple friendships. Like many people, I have close friends, those that know EVERYTHING about me and I spend most of my time with, or I have known for an eternity, but then I have those friendships with people who know FRACTIONS of me at nearly the same intensity. The value I place on my friendships are incredible.
I work at being a good friend, and thrive in social situations.
Maybe I am crazy.
Mark, on the other hand has very few friends, and could manage a life totally FREE of any such relationships.
This displacement of needs within our relationship often leads me to feeling upset that he does not initiate relationships for us as a couple.
Of late many of the "couple" relationships we have had in the past have drifted, and I am longing for more of those opportunities. After spending some time with Mark's co-worker couple and Tammy and Rich I am hoping that these opportunities with arise more often. This is in part of why I looked into this community social group. They (the group) looks like they do many of the things Mark and I enjoy, and I am hoping to engage in such activities in the future.
Over all these times with my friends...those old, new and LONG Standing has made me become quite aware that I would not change these times for the world.